Host/Plan Your Austin Bachelorette Party at Blurred Vines
Searching for a unique and memorable private event venue for your Austin bachelorette party? Look no further than Blurred Vines! Located near the heart of downtown, Blurred Vines offers a range of accommodations, personalized wine tasting experiences, and a convenient location surrounded by trendy restaurants and nightlife. In this blog post, we'll explore all the benefits of choosing Blurred Vines as your Austin bachelorette party venue and show why it's the ideal spot for your upcoming celebration.
The Venue
Blurred Vines offers a beautiful venue for Austin bachelorette parties, comfortably accommodating up to 50 guests for an intimate gathering with close friends and family. You'll find a wine library, a turfed patio, and multiple lounging areas centered around the venue's bar, which provides additional seating. The outdoor patio offers views of downtown, while the lounge is elegantly decorated, creating a sophisticated and modern ambiance that's perfect for your Austin bachelorette party. In addition to the stylish decor, Blurred Vines also provides a sound system for music and speeches, and you can even bring in a DJ or band to create the perfect party atmosphere for your celebration. If you're looking for complete privacy, you can rent out the entire venue for your event, allowing you and your guests to have the space all to yourselves. (Take a virtual tour of the venue here!)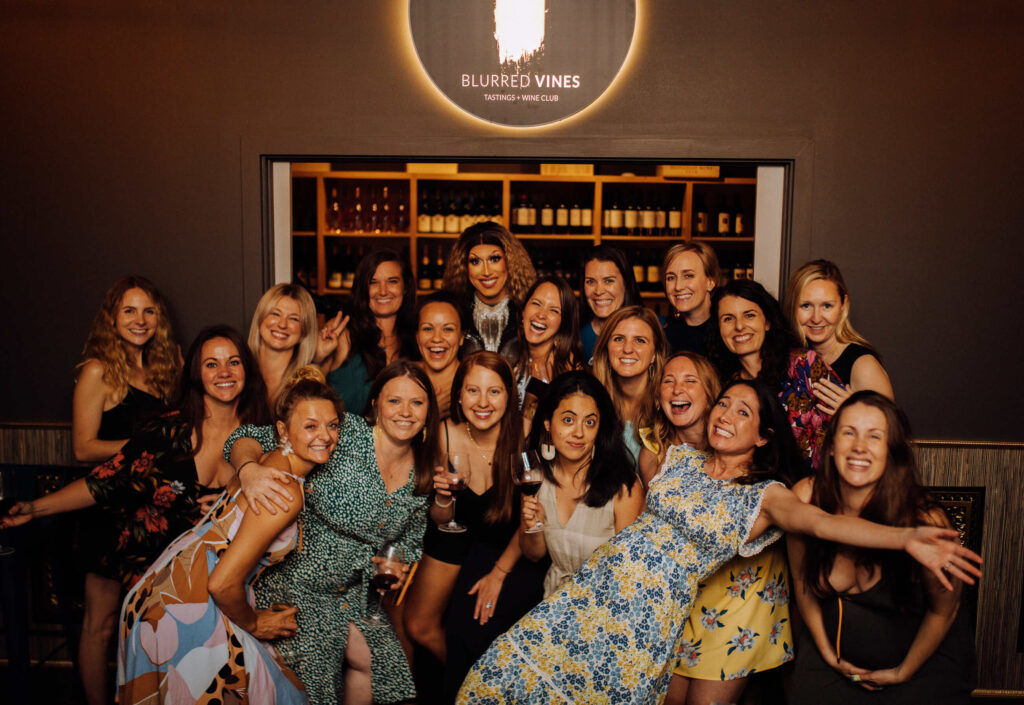 Personalized Wine Tasting
Blurred Vines can provide a unique and personalized wine tasting experience customized to suit the preferences of your bachelorette party. The wine library includes a selection of reds, whites, and rosés from a collection of small-production wineries, providing something for everyone to enjoy. With the help of our master sommeliers, you and your guests can learn about the different types of wines, including their origins and flavor profiles. Our sommeliers can also offer recommendations based on your taste preferences, allowing you to explore new wines and expand your knowledge. Whether you're a wine enthusiast or a novice, the personalized wine tasting experience at Blurred Vines is a great way to celebrate your Austin bachelorette party in a fun and educational way. 
Location and Accessibility
Blurred Vines' wine tasting room is conveniently located near downtown Austin at the corner of 7th St. and Brushy St., making it easily accessible for out-of-town guests. Situated in the heart of East Austin, Blurred Vines is surrounded by trendy restaurants, shops, and nightlife options, providing plenty of opportunities for your bachelorette party to explore the city. While Blurred Vines has a limited parking lot with eight spots, several transportation options are available. Ride-sharing services such as Uber and Lyft are popular options for those who prefer not to drive. No matter how you choose to get here, Blurred Vines' location ensures that your bachelorette party will have a memorable and enjoyable experience in downtown Austin.
Booking Your Bachelorette Party
The process is easy if you want to book your bachelorette party at Blurred Vines. Simply reach out to us at [email protected] to make a reservation in advance. Our team will work with you to understand your needs and preferences and ensure your event is planned perfectly. Then, on the event day, you and your guests can expect a warm and welcoming environment with knowledgeable staff to cater to your every need. 
Hotel Accommodations
There are plenty of hotels close to Blurred Vines, and perfect for your bachelorette party in Austin. The Fairmont Austin has got you covered with its convenient location on the edge of downtown, plus a jaw-dropping rooftop pool that offers stunning views of the city's skyline. If you're into boutique hotels, check out the East Austin Hotel – only five blocks from downtown and two from Blurred Vines. The rooms feature a mid-century Scandinavian design that creates a unique and comfortable ambiance. Another great option is ARRIVE Austin, right in the heart of East 6th. The hotel's modern rooms are flooded with natural light, making for a bright and relaxing atmosphere, perfect for unwinding after exploring the city.
Whether you're a wine aficionado or just looking for a fun and unique way to celebrate your upcoming marriage, Blurred Vines offers a lively atmosphere perfect for bachelorette parties of all sizes. So don't hesitate – reach out to us today to book your private event and start planning an unforgettable bachelorette party in Austin!